Exercise 1.3. Studio Reflections
For this exercise, I need to consider my relationship to my work or studio space.
Question: In your learning log/blog reflect upon your own approach to, and feelings about: action/inaction/, focus/distraction, knowing, being productive/unproductive, in the studio. What is your relationship to your workspace? What does your workspace provide you with?
I first research the reading point on Uri Aran and Valerie Mrejen's piece, Start Working, an instructional piece for 'Do It'.
Uri Aran had this installation piece at the 55th Venice Biennale, 2013. The combination of video and installation is called The Encyclopedic Palace. I found images of this work, apart from listening to the suggested video conversation by the artist.
Toolbox of actions
Organising
Making sense of things, solve things by
Putting two things together
Letting them age
Moving them every day
Revisiting them
waiting
explaining things, thinking about them every day in the studio
start with where you naturally gravitate towards, or schooling or education
he talks about flat logic or typography flat logic that has to do with how things are explained
use a map and how directions are explained as an example
so the idea is to flatten something into a representation, sculpture, video,
work in several layers in terms of narrative(s) and notion(s)
Work sometimes in harmony or discord
Work in different mediums
Work must have a rhythmic feeling
Work should make sense
Work should have a feeling of a story being told, a storyboard, which was taken apart and hung
Since we moved back to South Africa, I have had a spacious studio inside the house. It is an airy and light space, looking onto the wheat fields and little veggie patch.. on a clear day I can see the town and mountain it is nestled against. I use this space for my studies and art-making. I have bookshelves and working areas as well as racks for packing my stuff in. This room is still in the making and from time to time I move the tables. My easel, brushes, paint must be my treasured objects, together with all my found objects which are placed in windowsills, on shelves, etc, and books. I realize this is a very personal space for me to work, think, read and dream in. It get very messy at times and I tend to make heaps or boxes with stuff I think I could use: rocks, twigs, dried flowers, leaves, seeds, shells….I do not revisit my boxes of stuff daily or weekly, but those I started displaying are many a time moved or considered when I start drawing or look for ideas. Lately, studies take up most of the time I spend in my studio. I make time for sculpting in the evenings. In between, I watch another artist at work, mostly if I struggle with making or a concept in the process. My reading and research are mostly about art, but I need time to make art. I do battle sometimes to find this balance in my studies, as the reading also takes up time. I prefer to read and do my research, with breaks of making in between, I find the process stimulating and helping me put more effort and time into making. (did I mention I keep post-it notes next to me: ideas and thoughts are scribbled on them, and they lie scattered on my desk/ writing area. My sketchbooks are also around me, for reference and idea-generating. Work in progress almost always find their way onto the floor or stuck unto the window or easel, before I rework or 'archive' it. (Archive in my studio is a heap, or in a drawer or a shelf.

I recently started reading work by Tim Ingold and became aware that he explores ideas around the thought process of making by artists, as well as the materials that they use. For him art is not just about understanding works of art as objects that you make studies of, but about what the artist does, when they explore, trying to understand and make sense of the world around them. He views this as to happen in a continuous process of correspondence and becoming through each other , tools and the physical environment are also considered in this process. This world is a continual process of becoming between objects and things. It makes me think of the agency of objects, clearly if there is a reciprocal relationship, flows and fluxes between, it is also complex relationship. I find this is what I have learned from this part of the course, and became more aware of how I use this in my own making. I feel strongly about not separating theoretical work from practical work, all is about learning and becoming. On considering all the things I collect, I relate it to my sensory needs and that it needs to come into being in my work.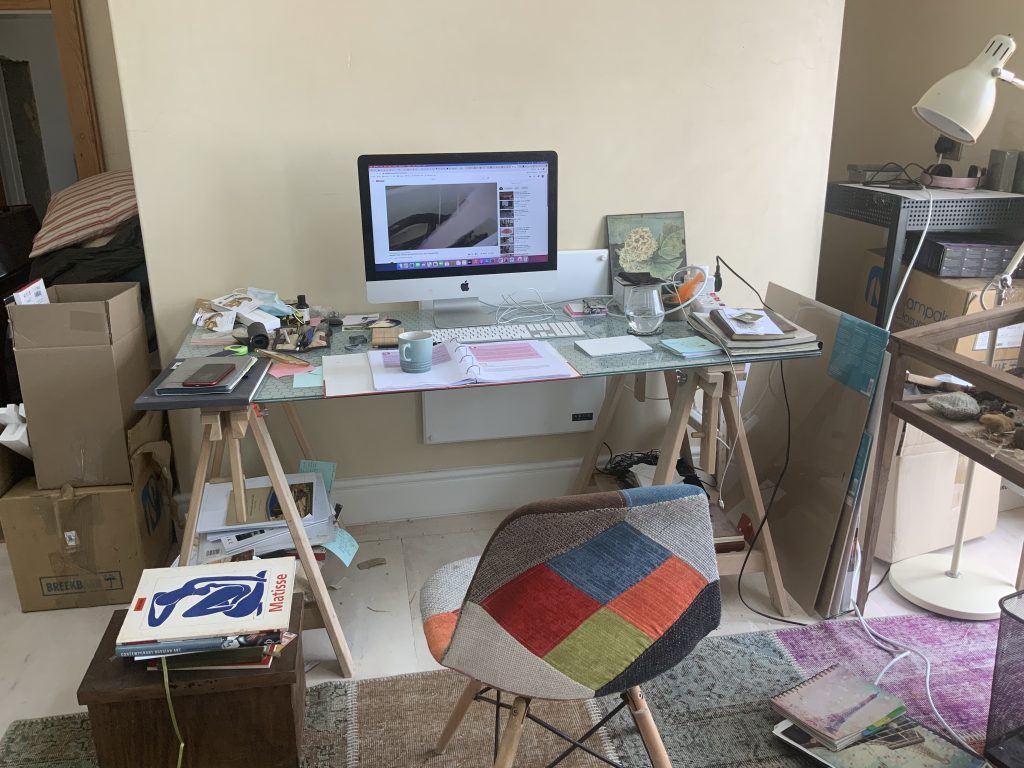 I came upon a Youtube video of a Kenyan artist, Wangechi Mutu, and felt so at home in how she described her work process as well as sharing her knowledge about herself, and the thought that stayed with me is when she described herself as a multitasking being, a little of that, a little bit of this, everywhere there is something going on. If I am honest, this is how my studio looks. whilst a painting is drying, I might draw, then read or research ideas or study work, and now lately work in 3 dimensions. I can be distracted by things around me, and have come to accept this as part of who I am. I try to plan the time I set aside for work, but sometimes a tea break takes me away into the garden or researching, reading. I do not feel precious about my making during my work but have decided to keep work, in order to rework or repurpose it seems a better option. Lately, I have used old work for further development of something different. When reading the list of Valerie Mrejen, I see a lot of my own procrastination. I have learned that when I do feel I battle to get going, I clean and organize my studio….this is when I revisited old work and inspiration soon arrives.
I was busy sorting things in my working space but also looking at the objects on my tables. A good example can be thinking of the current work and being busy with sculptures of more realistic faces. I have been thinking about headpieces of African women. On my table, I had earlier made a bigger piece where I took 3 seedpods from an indigenous tree, added bongo putty…..soon I was using a piece of collected wood and a small skull of a bird from my found objects. Everything came from my studio. I took a head/mask I was busy working on and was not happy with the direction it was going and fitted the piece on the head of a sculpture. By this time more ideas were flowing and I was open to working on a Combine piece, whereas before, I felt intimidated and unsure where to start. I am thinking of other materials which can 'glue' the objects, of painting the object with color, and even considering a bigger work. I will develop this work for the rest of the course.