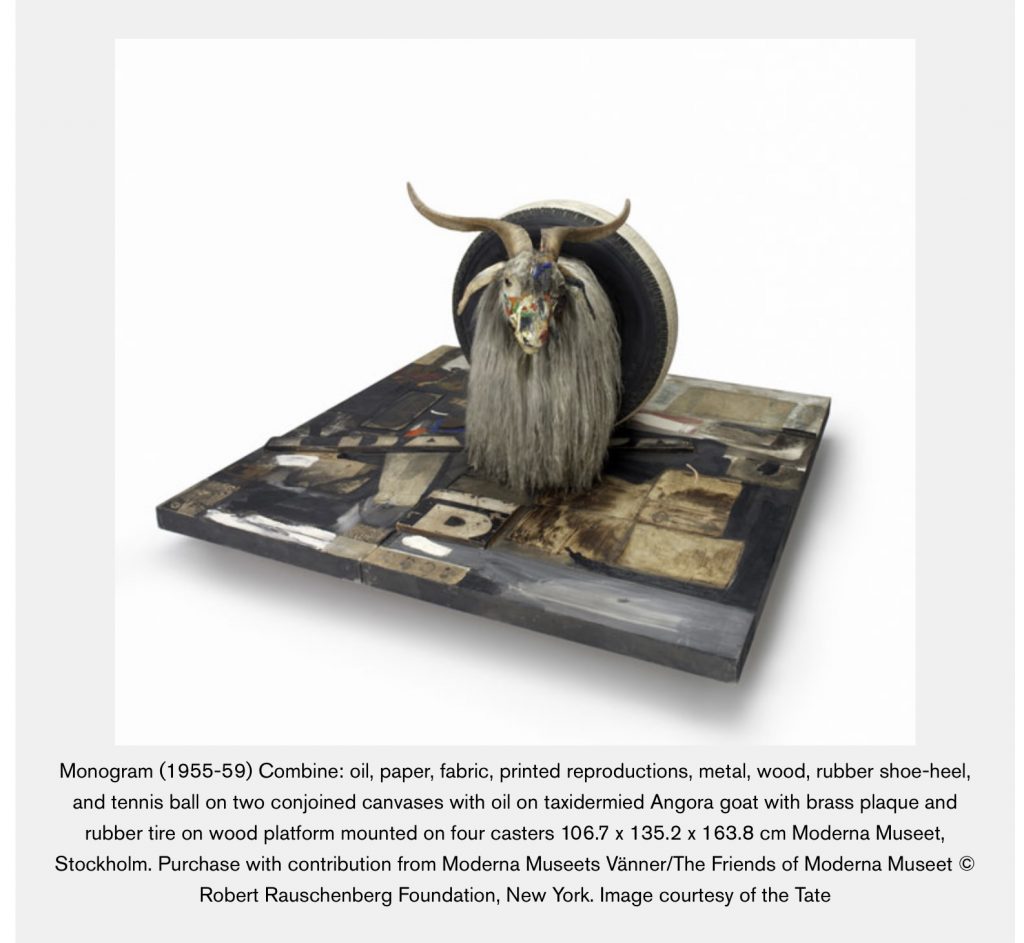 Exercise 1.4 Collect, combine, construct
I am immediately drawn to the construct of Monogram, 1955-59, the scale, the different parts of this painting with objects, and the time frame in which it developed as a work. I question why he settled on putting the work horizontally on the floor, apparantly in the second stage of developing this work, now it is 1956, he positioned it in front of a vertical panel, and the goat which was encircled by the tire with its tread painted white and standing on a wooden platform. The panel was from a dismantled five-panel White Painting from 1951 and was later The vertical panel was reworked and later incorporated into the central panel of Summerstorm (1959). Did he now have Monogram in his mind? I can just imagine the struggle and conversation around solving this into a work. In a way, I find the idea of making this, very masculine/macho? I would like to challenge these thoughts which I have in my own making process. I find myself alone at home, with my husband traveling for work, and I have time and space to experiment, without any intrusion.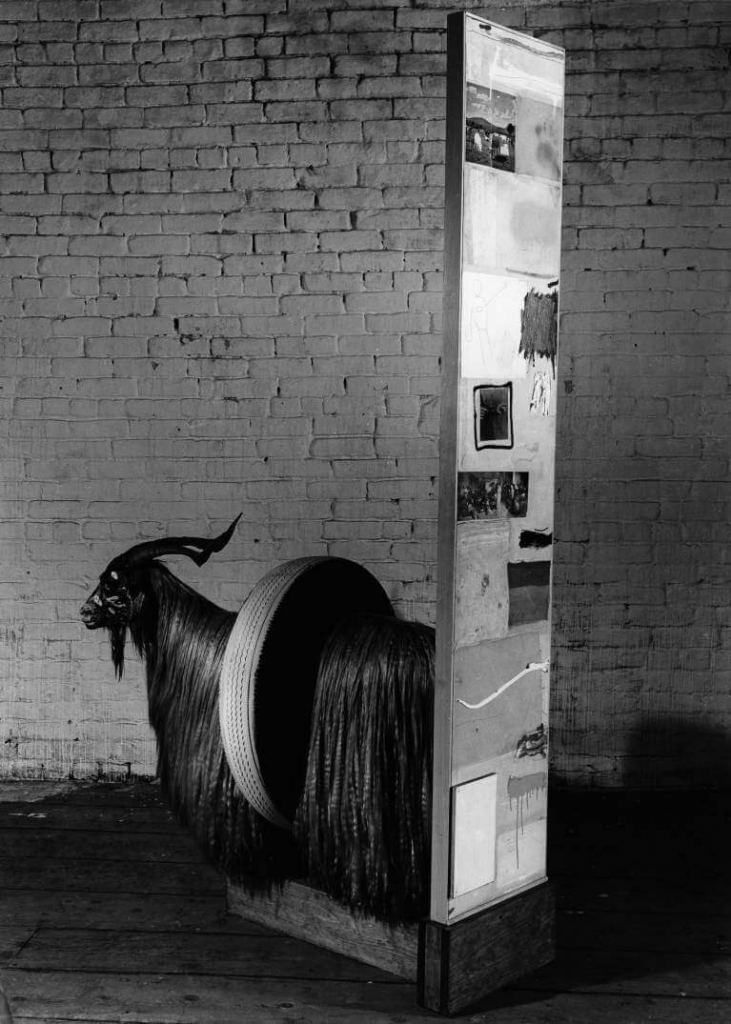 It is important to understand the context of when, where and why in terms of how this artist as a painter made work. On the Robert Rauschenberg Foundation Website, I read the following: "Art historian Roni Feinstein suggests that the horizontality of the work surface is reinforced by the four footprints at the edge of the canvas, the heel of a rubber-sole shoe, and other essentially flat collage elements, including a street barricade with signboard lettering and photographs. A paint-smeared tennis ball is placed on the platform behind the goat's hind end. ". I also read this: "
Art critic Leo Steinberg observed that the orientation of the Combines challenged the traditional concept of the picture plane as an extension of the viewer's space, providing a window into another reality. Instead, Steinberg argued, a Combine is like a tabletop or a bulletin board—a "receptor surface on which objects are scattered, on which data is entered."
I consider planned actions, namely to combine, to assemble, to merge or mix ( when we bake we combine the ingredients until they are combined into a dough, cake batter) together into seemingly one thing, is it also to put together, unite, or join, to link? In maths we can only combine. I prefer to hang onto ideas I learned from reading Tim Ingold. When I looked at the work of Kenyan artist, Wangechi Mutu I was struck by how she combines human and animal in her work. I find her work very feministic in terms of strength and courage, but also serious in searching history and becoming of the female body.
I have collected many pieces of porcelain, I prefer the blue or brown Willow or other decorated porcelain shards….maybe because they have a history in old cultures, but are also so much part of my own childhood memories. I have made skecthes and small paintings of these fragments as part of my collection of found objects.
Why this piece is a choice for a combine surely has to do with a moment in time: when we moved back to South Africa we discovered that most of our porcelain crockery, many inherited family pieces, were stolen. It can never be replaced and now have a different place and history, much in the same way I also do not know the history of my broken fragments that I plan to use in the work. I have mostly collected them here on the farm, around the old buildings and homestead. It makes me nostalgic and challenge my relationship with things. During 2020, I discovered books by Edmund de Waal, and I now recall his own descriptions of collecting pottery shards on slopes or hills, in China, where old kilns once operated. He reminded that today not all these sites are important or documented, and farmers who farm here, have to deal with the waste when they want to plant the lands.
My found shards are most probably mass-produced earthenware and known as chinoiserie, but the interpretations are inspired by Chinese decorative styles. I remember reading in Art as Therapy ( de Botton & Armstrong) about objects and how a Korean Moon Jar, a modest clay jar, with minor blemishes on its surface acts as a reminder of humbleness and ideal of modesty, which art could also be. Later in this discussion around art objects the writers contemplate that we not only like art objects, but we are, in the case of "….certain prized examples, a bit like them. They are the media through which we come to know ourselves, and let others know more of what we are really about."
I chose to use a side plate and fix the work onto a piece of polystyrene, which also reminded me of a big piece of pottery shard. I wanted a broken plate and use some of the broken fragments, so I dropped it outside in our garden outside my studio. The ground was painted blue and black/grey, to remind of different fragment colors. I placed made, found and painted objects onto the horizontal surface. The scale of the work is not big, but I believe it suits the objects which were incorporated from my table.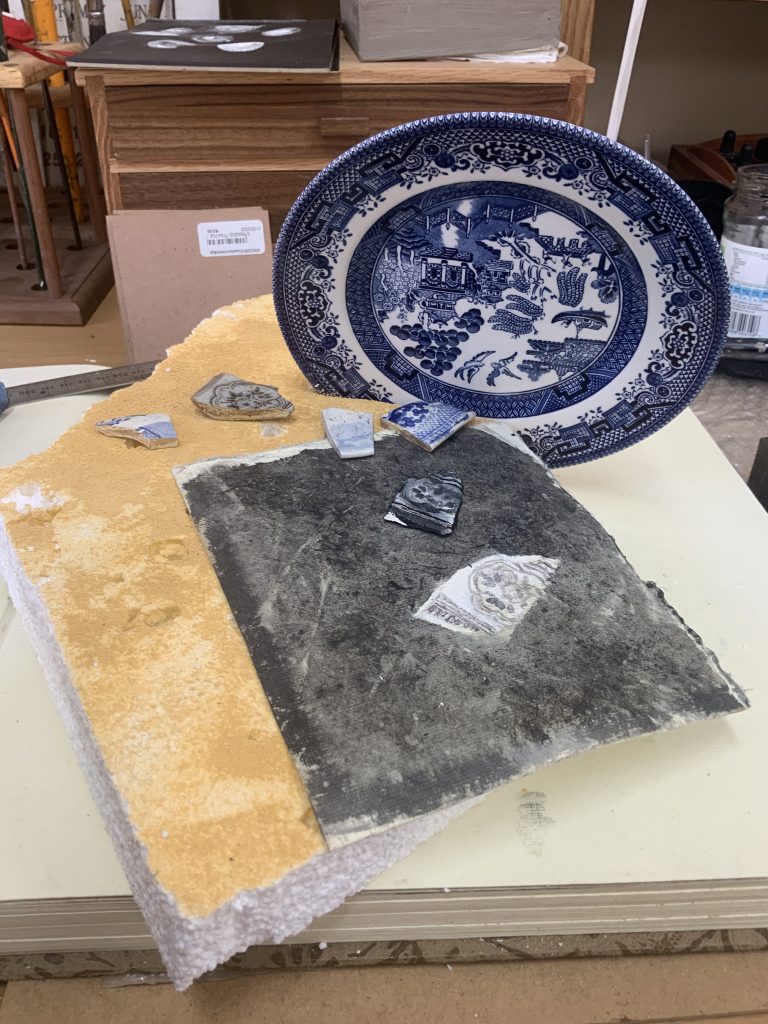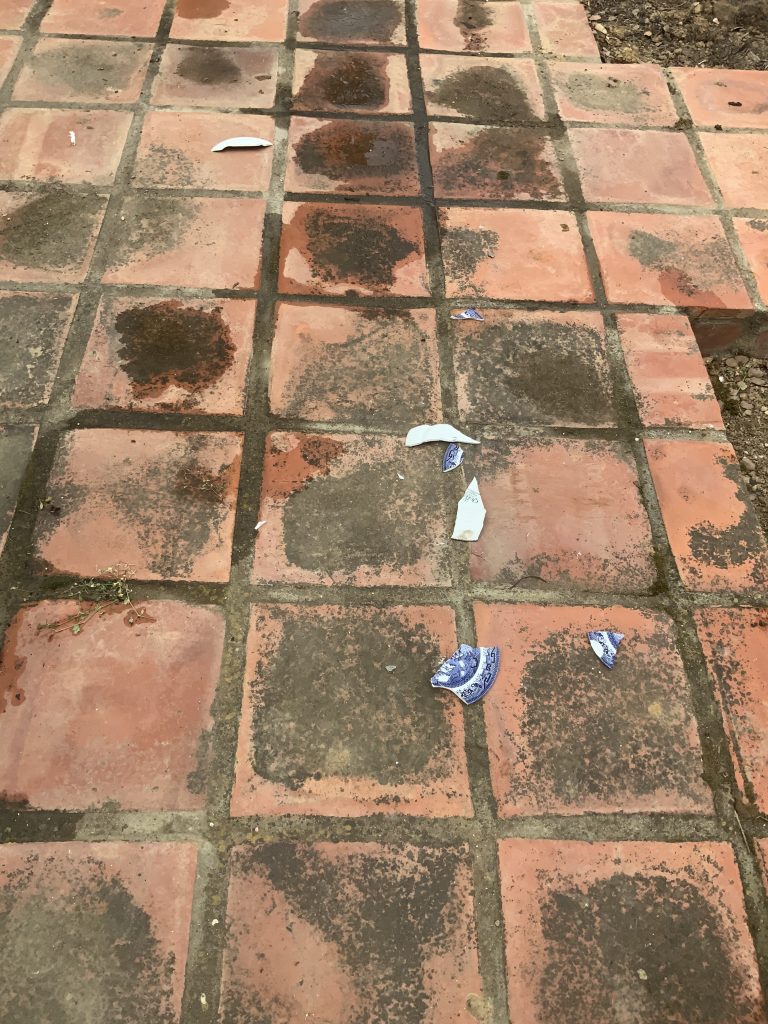 Did I create a tension between objects of everyday life and the materials of art?
LIST OF ILLUSTRATIONS
BIBLIOGRAPHY