Works I have been looking at that influence my practice
Omani Pavillion: Radhika Khimji
I was made aware of this work by a fellow student who visited the Bienalle and shared images. T The Omani exhibition, titled 'Destined Imaginaries', brings together five Omani artists across three generations: Anwar Sonya, Hassan Meer, Budoor Al Riyami, Radhika Khimji and Raiya Al Rawahi, whose work here presents abstract habitats of future relics largely inspired by their experiences of the Covid pandemic, and offers a snapshot of the country's vibrant creative landscape.
Concluding the exhibition is a site-specific work by Radhika Khimji, incorporating textiles, sculptures and walls, all based on the Al Hoota Caves. This two-million-year-old cave system in Dakhiliyah, Oman is home to a rare species of fish that have adapted to the lack of natural light and thus lost their ability to see. Khimji imagines these fish emerging from the caves and contemplating their agency: 'It's about how we respond to our environments, and whether our environments define us,' Radhika's work comes back to national identity, and so it was important to have her voice to show the diversity of Oman, which is such a multicultural society.'
The works below intrigued me with the cut-out work as to how it reminded me of work I started and considered developing into a bigger work. I enjoy the process and layering methods I see in her work.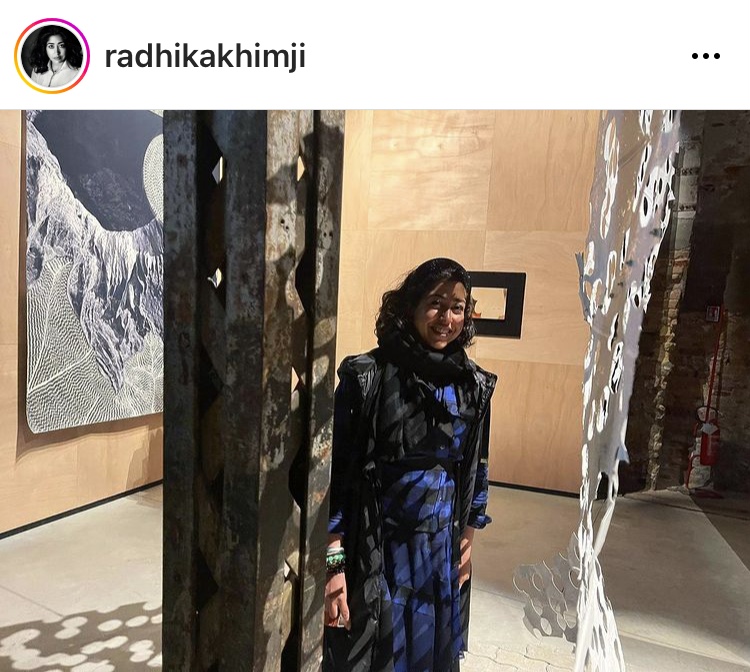 My own work was small and I have been considering making a bigger work with cut-out round shapes.