11 JANUARY 2020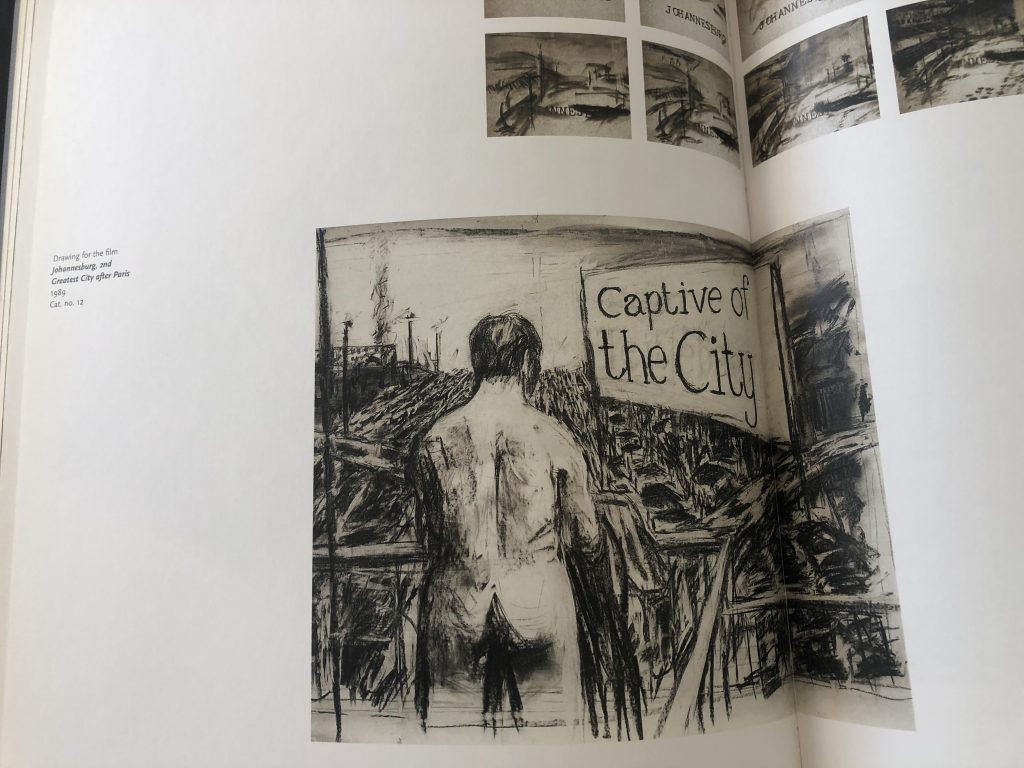 A local newspaper in South Africa wrote the following of above work in 1990: The artist stands outside society and scrutinises the historical and bourgeois norms, taboos and ideas of what art en-tails and disconcerts with its honesty. (https://repository.up.ac.za/bitstream/handle/2263/15043/Oppermann_Contrasting%282003%29.pdf?sequence=1&isAllowed=y)
William Kentridge managed to stay away from politics, capturing a moral message or gesture to create the 'urgency' of that message. He use mostly film as 'performance' in his art. The work is part of experiments, charcoal drawings, which come alive with a great use of fluidity between these drawings and gestures. There is a playfulness and almost surrealist use to 'disturb', in his compositions – he is a white artist in Johannesburg South Africa who ventures into these visible and invisible issues of this country's landscape – political, historical and social. This work as part of the film, address loss and the devastating effects of this history of Western economic and political advances on the society and landscape. I also realise the influence of artist William Hogarth's (1697-1764) and his work, Industry & Idleness on this artist, (a series of twelve engravings) to make eight etchings for his own Industry and Idleness series. I have many times in my work process looked to Hogarth – always had the idea to bring it into my work with the rhino drawings (see blog)
I relate to above work as living in a city – something my husband and I do not particularly prefer, hence our reason for moving to this neighbourhood away from the city. In many ways I feel like an onlooker, and outsider – this has translated into my thoughts when I walk.
I think I appropriated Kentridge in my daily walk, but it opened my eyes to forms around me – formality of a living space we create for our lives – architectural ideas of modernity and city living within the Arabic culture. I see so many conflicts due to difference, but also the need to have a safe place which protects from the harsh heat and winds, as well as moving away from traditional living which was in tents and later into square blocks interviewing into communities.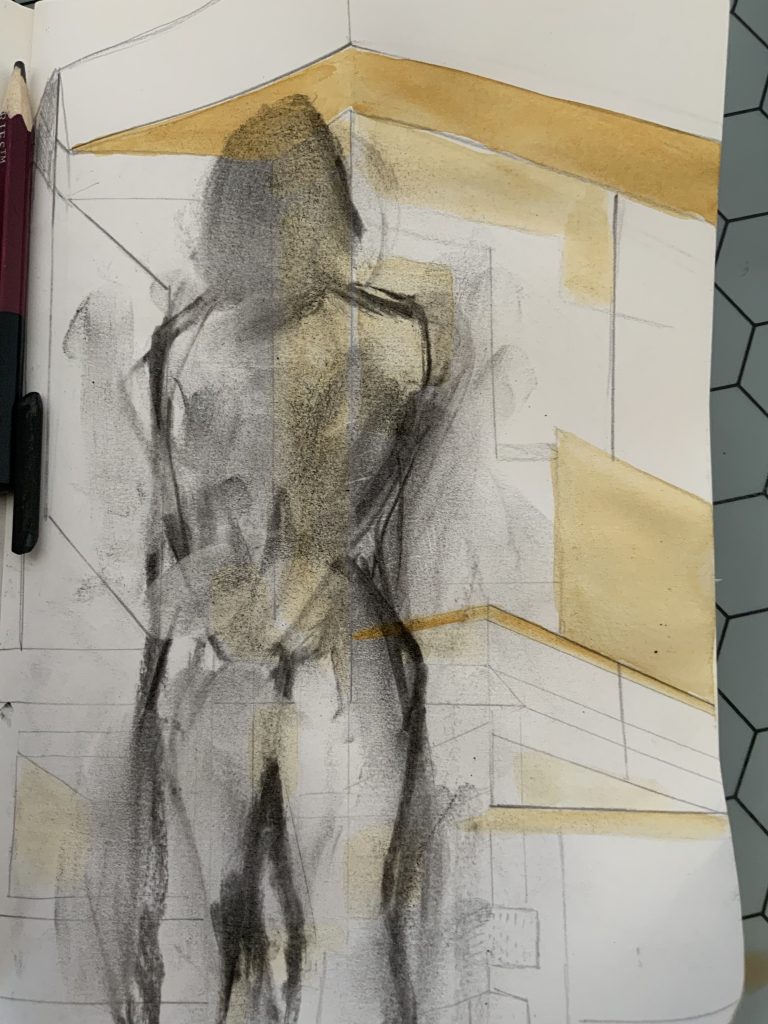 I am thinking about feminist critique and how as a woman I identify with many of the artists of the 60s and 70s – looking at this culture and wondering about being a woman in those times and all the myths about wearing covers and facing a strong masculine gender power preference in ideology and cultural history. Looking back onto this history is also a narrative of change and growth, but one of doing it mostly 'under' the covers and accepting a slow development and opposition on cultural and religious grounds.
Book is used: William Kentridge a Catalogue by the Museum of Contemporary Art, Chicago 2001 Edited by Michael Sittenfeld and printed in Belgium by Snoeck-Ducaju & Zoon.
Walking practice brought into these ideas:
This area where I live, could have been a pristine coastal landscape flowing into the desert-landscape as well as the ocean – development and aspirations of leaders grew over time, making this part of a growing city and a leadership phenomena to be admired by others. I have feelings of ambivalence in my awareness around the role of capitalism, religious and other ideologies, ect. within urban development as well as broader developmental ideas for a nation and country, as we come into these confrontations about new materialism and sustainable development . I became concerned with use of water and electricity, growing pressure on natural resources as well as creating waste and management of the growing concerns with marine and land pollution. There are many efforts by the leadership to research and find best practice methods and I will always acknowledge these efforts which would include, biologists, nature conservationists, scientists, sociologists, historians, etc. Dubai uses culture, media and sports events to maintain and highlight its global recognition and push its soft power – cultural heritage is very much part of this soft power.
The rise of Trump could be viewed as a
threat to American soft power, not least
because his kind of populist rhetoric
is known for devaluing international
alliances. The president has indicated
his preference for hard over soft power,
perhaps without properly understanding
the need for a combination of both.
Only time will tell if Trump will
withdraw further from the international
community, thereby limiting America's
obligations and contribution to
international public goods, while
diminishing the country's ability to set
the global agenda.
46 THE SOFT POWER 30
GERMANY
Germany has, for the second time,
fallen one place in the index despite
an improved overall score. It has been
a difficult year for the Germans as they
dealt with the impact of terror, an influx
of migrants, and like most of Europe, the
emergence of a far right political party.
But the country has displayed its typical
stoicism by improving or maintaining its
ranking across all sub-indices, with the
exception of the polling. As Chancellor
Merkel and the Christian Democrat party
(CDU) enter the September elections as
favourites, all eyes will be on Germany as it
seeks to reassert its position as the primary
driver of Europe's agenda.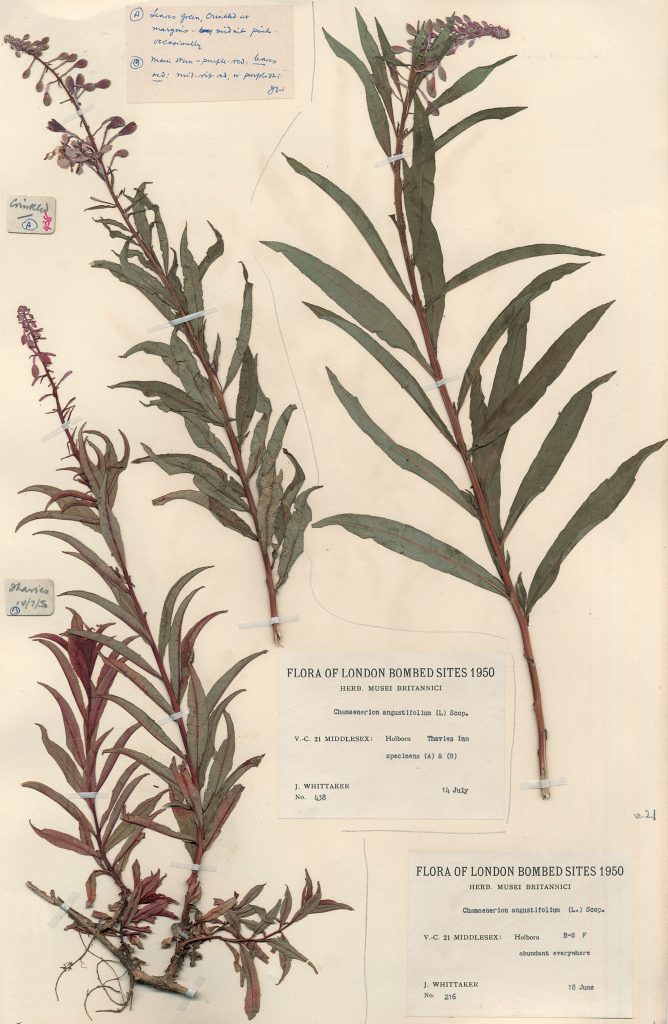 Pressed specimen of Chamerion angustifolium, also known as Epilobium angustifolium. This specimen of bombweed was collected during the London Natural History Society's City Bombed Sites Survey in 1950. A member of the society that conducted the survey wrote of Cripplegate, the neighborhood in which it was collected: "This area in the very heart of London provides a splendid opportunity to members of the society for recording the colonisation and establishment of a new fauna and flora which, its is to be hoped, will not occur again." Courtesy Natural History Museum, London.
I will look into the role of art in urban development of the city – I can walk these routes and experience it very tactile for the next few weeks.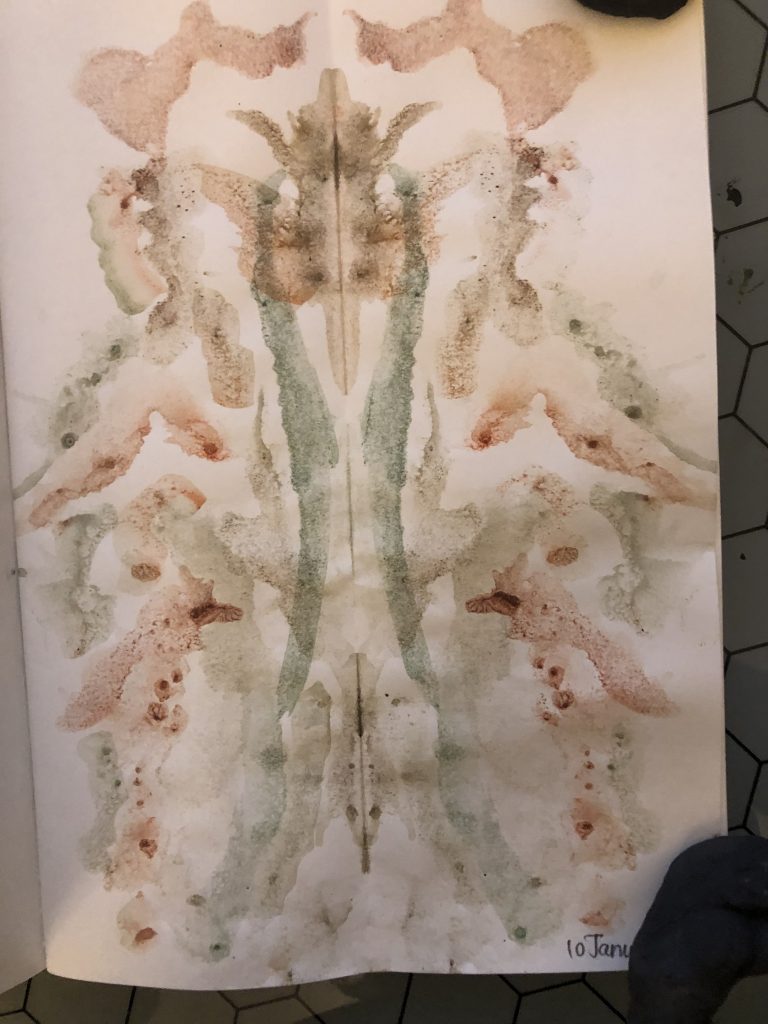 Alserkal:
Alserkal Avenue is a vibrant cultural district in the Al Quoz industrial area of Dubai, and hosts many contemporary art galleries, visual and performing arts organisations, designers, home-grown and entrepreneur-led businesses, like a movie theatre. These businesses are hosted in warehouses – a local Foundation, by the Alserkal family runs the project.
Art Jameel
I prefer this location as my 'go to for art experience' here in Dubai.
They started an Artist Garden project, which I followed online – with the driving idea that of the desert where we all live, so a relationship with human, animals, mineral deposits and plants, domestication that took place between species living together.
I follow two artists, Sunoj D and Namrata Neog who feel strong about the project, The Desert is a Forest, and want to use it as a study where they bring in their home (Kerala) in India, which has historical connections with the UAE.
14 January 2021 My practice and ideas at this stage:
I also want to go back to interconnectedness of these relationships in our daily living – my walking practice – can I do it more object oriented, and not so human centric? I can look at my landscape as my everyday life whilst walking outside?
I want to use fragments of objects I found, fragments of visual memories and fragments of thoughts into the material work. I want to look at the interconnection between these objects.
In my tutorial session with my tutor today on the work done in Part 4 my tutor comments that she observes my less literal work as stronger works – I want to explore my experience and how I can represent it.
I feel I should work more intuitively with layers – not controlled by any form ideas.
I started with a sheet of velum and made an impression with ink (amber colour) and let it dry, the added a second layer of green ink – moved the paper I put on top of the first layer around to make more imprints. I then sprayed water and added an older work done on water colour paper, with black ink on top as a third layer – I moved it into the surface of the velum to create more marks and let it dry. The process will continue.. or not..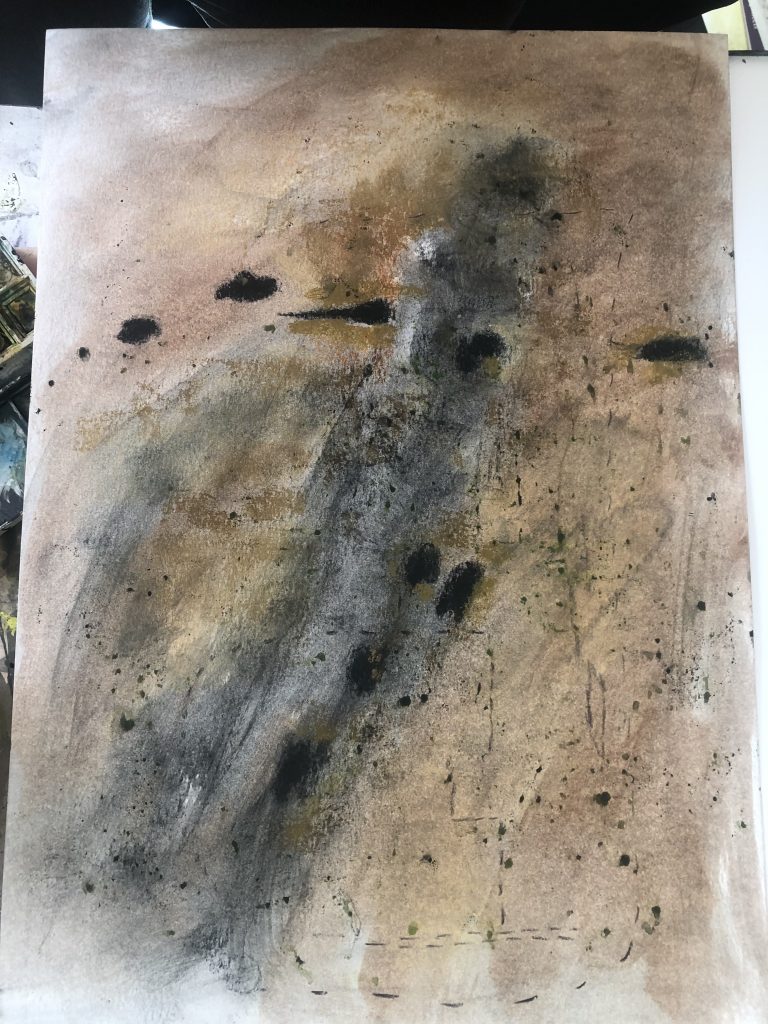 In the work above I started by drawing spoor of the Arabian Gazelle I found in my walks outside our compound – on the sand dunes around our fenced community. I used charcoal and other pastels to make the imprints, made a few broken lines for my own tracing (mapping), created a figure in shadow and sprayed a fixative in the hope to add more layers with paint. Whilst doing the imprints on the velum paper above, I also imprinted this work on the velum to see what would move onto this work. I can see fine dots and marks and will continue to explore with this.
I have been thinking about walking as an event, a performance an action and gesture within my practice.
Thinking about walkability within our urban landscapes:
I wanted to spend some time contemplating the layout of my urban landscape and how the 'walkers' use this space. We have different walkers using the space for different reasons: dog walkers, runners, cyclists, children. Our needs and reasons are dependent on the terrain, but not necessary the grid of the layout of the compound