I decided to use a De Kooning painting of a woman figure done in 1961. This was after his first period and the Woman Series, which was I – VI paintings of grotesque proportions of abstracted and distorted woman figures.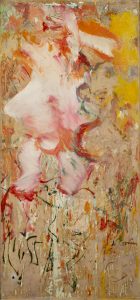 Between 1964 and 1966, de Kooning painted a series of larger-than-life female images on hollow-core doors, two of them Woman Sag and Woman 1965. It seems these works can be considered a benchmark in the artist's career, and confirm a shift in his technical methods that had begun around 1960. Using support primed with smooth, opaque white grounds, pigments mixed with large amounts of white, and an increasingly fluid paint medium, he exploited the potentials of his materials to create paintings evocative of the water-surrounded environment of Long Island's East End.
I will attempt an oil painting on Strathmore paper, size 18×24 in. Below is a quick sketch in water color, where I explore the painting and my own work process. I could get an idea of the palette as well as placing the subject with interesting and gestural brush marks. I became very aware of the negative space left on the open paper and the fluidness of his brushstrokes as well as of the materiality of the paint. I feel excited to start this painting.
So much to learn from this first attempt, in terms of copying correctly. The body contours can be more accurate by focusing on the gestural outer lines in the almost flesh color. During the Coursera course I had access to two videos of Corey d Augustine in the studio showing his take on how DecKooning's work process might have been. He made the flesh color with a buff titanium, cad red, yellow and green and added Damar varnish, linseed oil as well as solvent. The solvent and oils make the paint thinner and faster on the brush, cut the viscosity and made the paint glossy. Water was also mixed into some of the colors, to create nice textures in the paint..like alligator skin texture. I do think some of the greens need a stain effect, this need to mix in lots of solvent for that effect. I need mixing bowls for this exercise. The palette will be Black, Ultramarine blue, CadRed, Cad Yellow and White oil paints. I am not sure if I can sand the paper support, but need to make sure the paint will adhere nicely to the surface. I will also work with a bigger brush size. I am considering adding normal cooking oil and water to my oil paints, both for practical reasons of low stock due to current lockdown issues, as well as experimenting as the artist did use non conventional art materials. I realize with the low viscosity oil paints I will work, the brush will flow more easily than the water paints, as well as that I will be working wet in wet in areas to get those nice complex surface areas.
Basic drawing of figure for start of painting
I started by adding linseed oil to the flesh colour and painted the basic body shape. I work wet in wet and bring in more white before I move to the green outer lines. I cannot help but feel I am working with a sea or garden landscape where a figure is placed. I use a dry rag to wipe out some areas and create marks on the paper.
A parallel project started to get shape. Here I feel less constraint and make soft loaded viscous shapes with the big brushes I have. I also turn this sheet around, up, down, side….
The glossiness in the work is important and I need to work on different translucencies and the visual effect of the paint layers as it dries in between for a few days, and leaves some evidence of the wet strokes. I mix varnish into the oil and like the move of the brush as it is smooth as butter, but still controllable. I have added some charcoal marks into the work and plan to let it dry and then do a collage in the De Kooning way.
After a few days of drying I did a collage technique with charcoal drawing over the painting and decided to bring some red and yellow to the front. I did more scraping off of layers and where I removed the paper new layers of marks were revealing and paint is now more glossy, as I add more varnish in this wet over dry painting process which De Kooning used.