STUDIO PRACTICE
By now I made contact with a sculptor whom I follow on Instagram; she introduced me to a sculpting clay that does not dry. I sourced the material from a local foundry, who did not want to disclose more about the composition of this clay, which I could buy in two different colors and in different consistencies. This formulated clay, called balled clay or Bongo Putty is used for armature building. It can easily be modeled over a foam or wire armature. An artist friend who is a ceramist sculptor advised that I source High-Density Polystyrene and use glue and dowels when I make armatures. much lighter and easier to make. We discuss working in realism and I presume this will be covered in Part Three of the course. He came to visit and helped me make a headstand for sculpting- all was done with the high-density polystyrene.
Below are two images of my friend, Charles Gotthard, introducing ideas for sculpting a realistic face and doing some work. The wisdom of his at least over 40 years of working, which he shared in these moments was so much appreciated.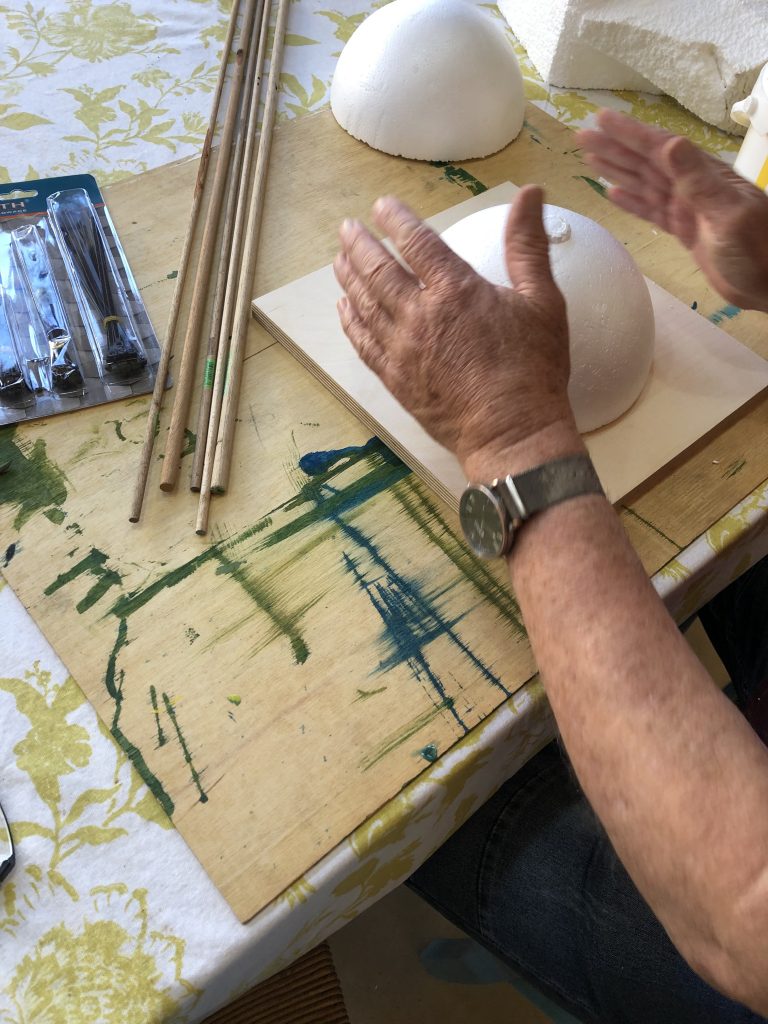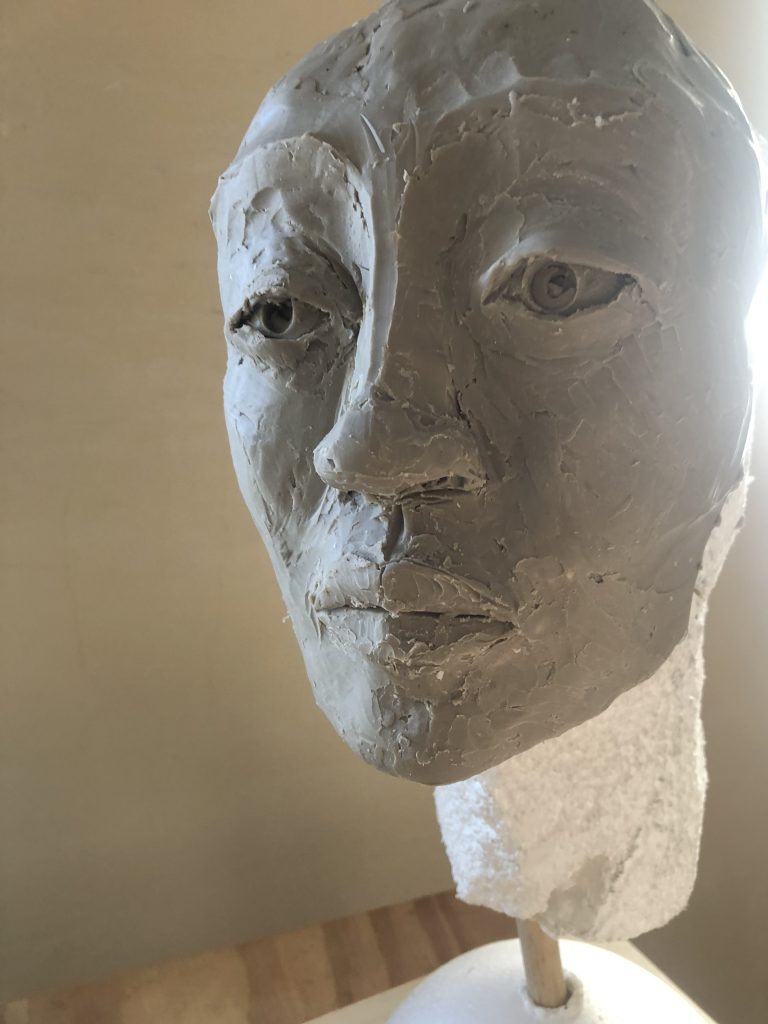 I use a face of a local sculpture as a guide, but try to get to some form of a hybrid, but with a focus on expression. Possibilities of making opens up to me. I like an expression of thoughtfulness or inward thinking.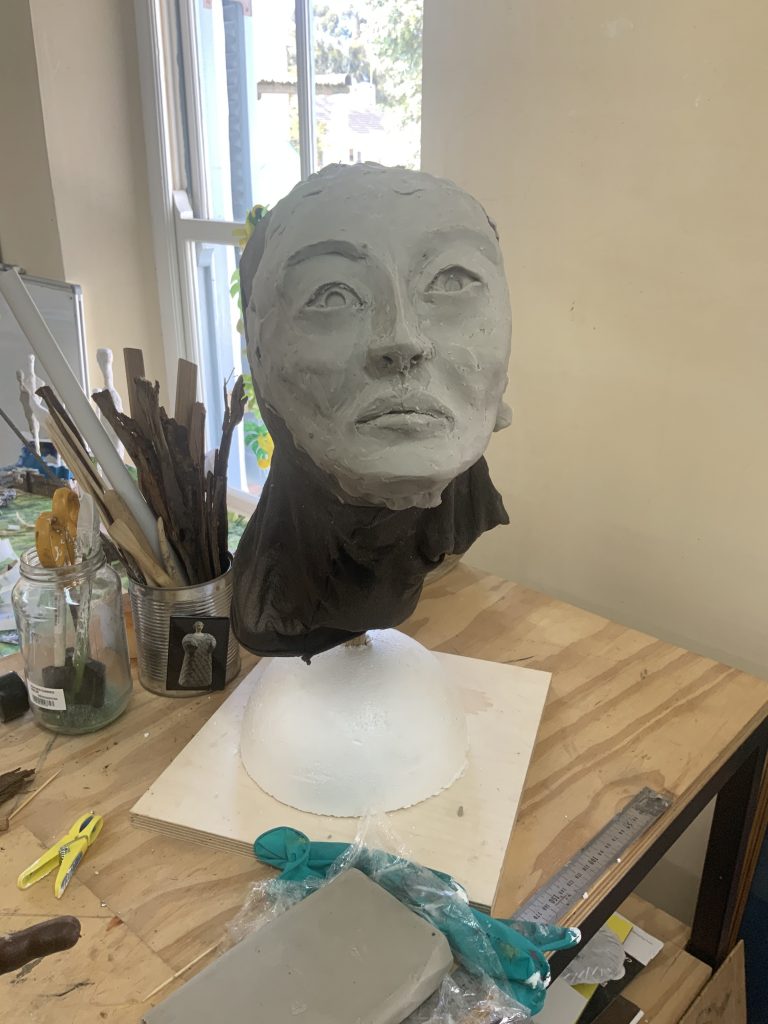 REFLECTIVE ACCOUNT
I looked back at portraits I have done, but objects are also part of my daily living and I can see them coming into my work as questions (Parallel project). Recently I felt invigorated when I joined a figure drawing class, organized by OCA on Zoom ( Sunday 12 September with 2B to Draw) I started exploring the use of video when I make, partly to illustrate my making and thought process as part of my studio practice. The process of making will be considered for my Parallel Project, after discussion with my tutor. The experience of working as molding, forming, touching, constructing, meaning, searching, learning, engaging, sensuous, looking, thinking, feeling, imagining….. was overwhelming and rewarding. I would like to keep sculpting as part of my studio practice. I consider partaking in formal studio sessions with a local sculptor during October 2021 where I would also like to learn more about modeling and b exposed to use life models for sculpting.
I would like to start with the reasons for developing this work. During the course and making of 3d objects, I felt a strong pull towards sculpting and continued to follow the questions I was considering. My main reason was, to be honest, and open myself up to new or different possibilities of discovering the subject of Contemporary approaches to Still Life. I soon felt that I enjoyed working with the malleable clay product I discovered. I continued looking at figurative ideas and faces, hands and figures were soon occupying my thoughts. I became much more aware of how I look at things and my own investigative or inquisitive mind which like unplanned routes, follow my nose type of thing. I think my search is mainly, to be honest about what I think and what I like to be surrounded with. I made short videos of me working and looking at it, shows how the face developed, changed, and my learning and method during this process. I eventually made the face into a mask. I feel the final outcome of the mask and headpiece was developed enough – I prefer the more raw feeling to the work. I see the work referring to how I think about objects, as found, as ready-made, for me to continue with on a new idea. It is in my mind, I carry it with me, it is part of who I am.
My learning about sculpting was broadened by doing this work and I have decided to work on my sculpting at least 4 days a week. Sculpting interest me as a way to explore working as part of learning through making. I see it complementing my painting and drawing. I stay interested in my own intuitive ideas hoping that I could work towards understanding the symbiotic relationship between sculpture and painting. (this could work for my parallel project?)
I believe my creativity was challenged by a renewed understanding of things like edges, folds, connections that could come to play when making.
List of Illustration
References
Ingold, T. 2012. Ingold – Thinking Through Making. In: LUC Lapland University
Consortium. Tales from the North, April 10 – 12, 2012, Sámi Cultural Centre SAJOS.
[Online]. Finland: Institute of Northern Culture. [Accessed August 2021]. Available
from: https://www.youtube.com/watch?v=Ygne72-4zyo&t=307s