16 November 2020
By now I started to read of the books my tutor recommended.
I stood still at the paragraph where (p11) Monet's waterlilies in the Orangerie is discussed. On page 10 with a conclusive remark that "extreme forms of realism in narrative began to set streams of consciousness free from people who were having them, and the hand-holding benevolent narrator vanished." he reminds of Monet who used colour and brushstrokes to liberate from specific form – his Lily Pond paintings.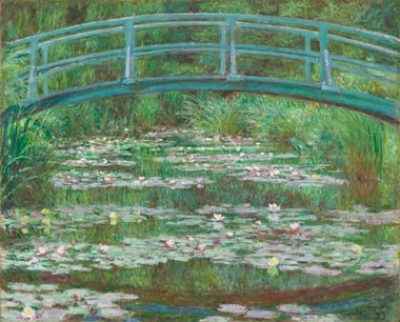 Monet called his water-lily pictures paysages d'eau (waterscapes). He was interested in reflections and he sees these fragmented shapes in his own broken brushwork. The paintings lost their landscape elements. Here, the sky has already been eliminated; one do not see a horizon line and the foliage rises all the way to the frame, he flattens the illusion of a three-dimensional space. Attention is forced onto the paint surface itself, and held there. In his later lily-pond paintings, flowers and their mirrored reflections assume equal stature, blurring distinctions between solid objects and transitory effects of light.
I started with pastel pencils, but did not have a red – I tried to focus on colour and forms and add water brush colour strokes onto the pastel layer. It added to a blurriness and fragmented seen on the surface. I wonder how I could use this as material exploration of my walks. Below is an image of a flower I put with small mushrooms. The flower grows in most gardens and open landscaped areas around the city. The bright colour contrasts lovely with the green in these areas. Here I can view the detail inside the flower – it reminds me of the work of G O'Keefe, whom I have always admired – I like the 'gaze' which is so intense. I have to buy a magnifying glass (note to self), as my cellular phone camera cannot do macro shots – I need to see more.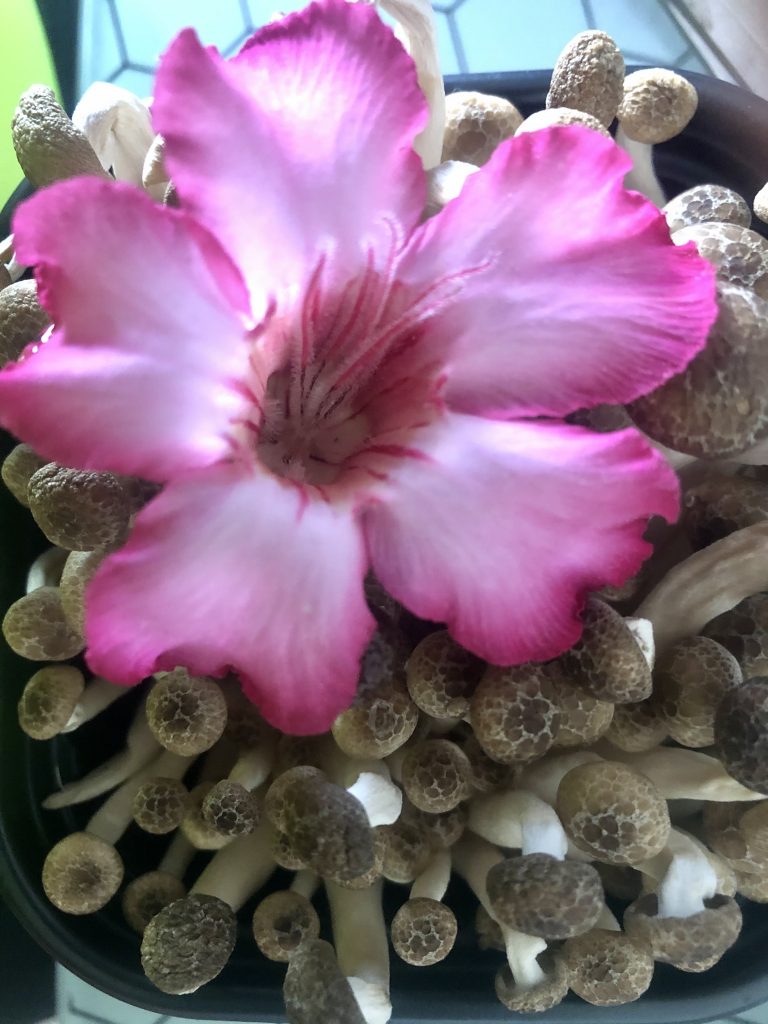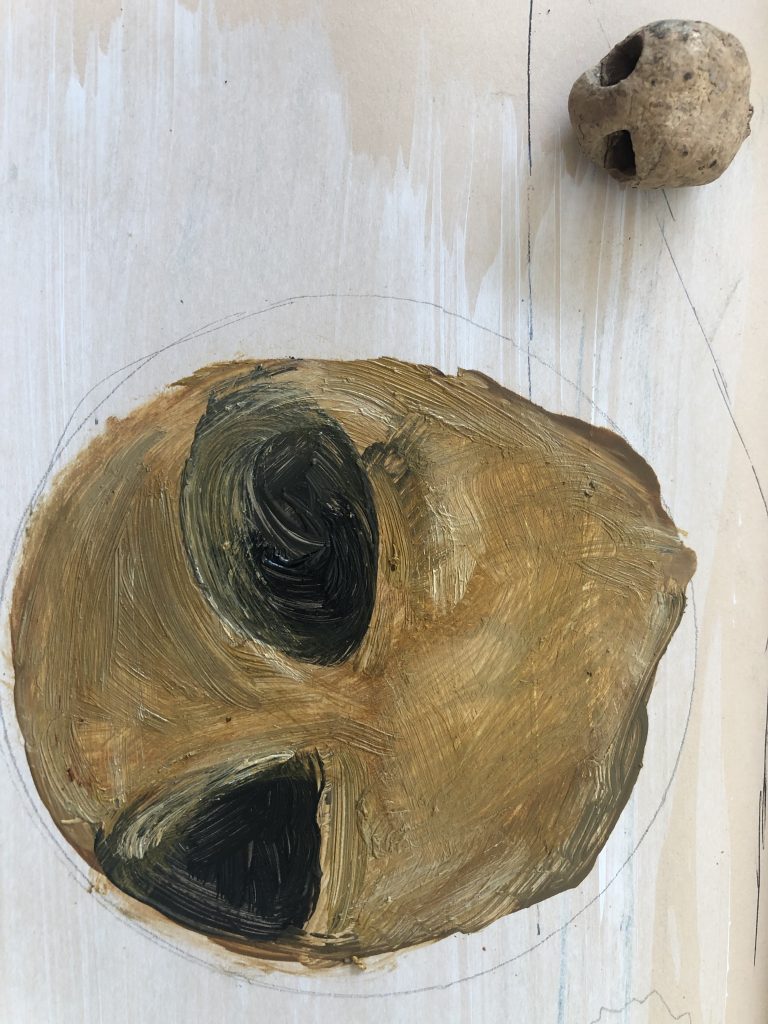 Morton, Timothy Hyperobjects: Philosophy and Ecology after the End of the World, Timothy Morton, University of Minnesota Press, 2013 – online reading on SCRIBD
I looked at the painting style of Cezanne and came upon an article by the National Gallery, by E. Reissner, that focussed on his making. (Ways of Making 2008 p 1 -29)
Reissner, Elizabeth, 2008 Ways of Making: Practice and Innovation in Cezanne's Paintings in the National Gallery, National Gallery Technical Bulletin,Volume 29, 2008 Published 2008, National Gallery Company https://www.nationalgallery.org.uk/upload/pdf/reissner2008.pdf
24 November 2020 project ideas growing
I decided to consider how I could use my walking and experiences of living in a liminal space in my practice, I plan to consider the space I live in and how the dynamics of urbanism influence life here. Dubai is a very modern city, built out of the sands of the desert, many skyscrapers and urban developments have taken place in this young city. We live near the biggest of the two palm islands which was created in the sea and which can be seen from space. Only one island was developed, the other was placed on hold. There is even an attempt at creating the world – islands making up the landscape of the world as we physically can see on a map below. Lots of drenching was undertaken to create these islands, made of sand and rock and to connect them with the coast – a high cost to man and nature, the impact of which is not fully clear, but dreams to be lived in this space is still there. I remember reading about these developments as a new from of 'Google Earth Urbanism' as sales brochures and news reports by the media created quite a frenzy in the time between 2003 -2008, when this city has seen a major financial boost due to tourism and property development.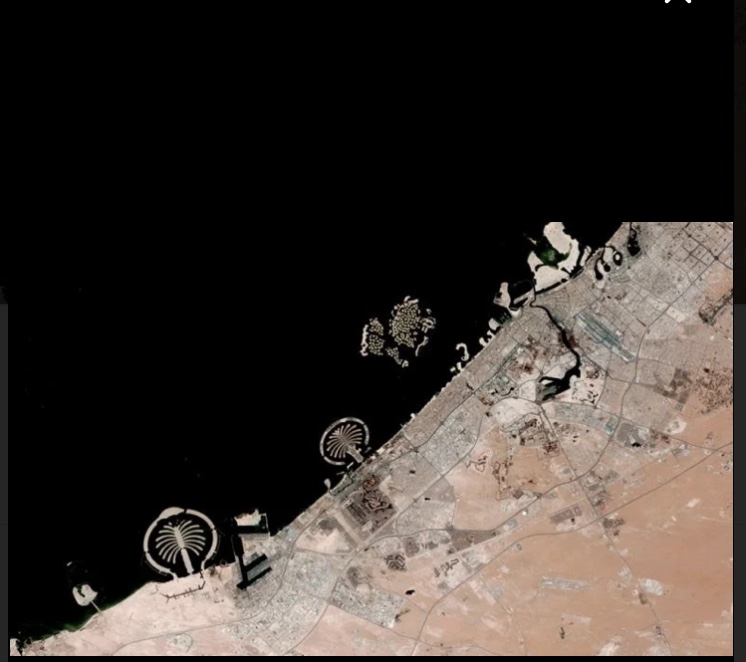 I think about repetition and what I learnt in the first part of this course. Thinking about what I am asking, is it : 'can walking be art? My work should consider that walking is art and that art is walking. I am not even sure if I will be attempting to develop landscapes in my artmaking about walking, as it is about walking as experience within a specific space – which I can define as a place.
Below is a Google image of the area where I live – marked with blue circles.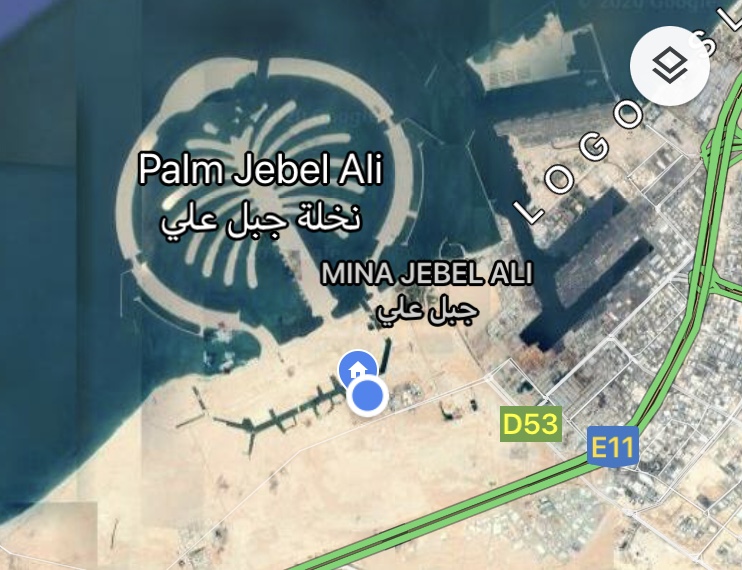 Walking, like most other outside activities, is only comfortable during the winter months, which has recently started – summer season is just to warm to be outside. I walk with a smart watch, and use my phone for photos/GPS App. I have visual data about where, when and how fast/slow I walk – heart rate, steps taken,calories burn, maps of routes I walk, photos I took. Many artists walk and spend time outside to enhance their work practice – some paint, sculpt, perform, outdoors. We chose to life outside the city as we prefer a quieter environment, and we love the beach close by.
I found the term Psychogeography and decided to explore this. According to the TATE website, "Psychogeography describes the effect of a geographical location on the emotions and behaviour of individuals." I can understand the link between 'everyday life' and culture within this idea and would like to explore this in my own practice of walking. I want to explore with material what is happening when I/we walk in our own environments. The bodily experience of making choices, feeling in control and to allow the flow of the path. I will look into the Situationists who were active in Paris in the 1950-60's . Their practices included walking/drifting through the city as a means of explorations and consciousness – I want to find how the deeper meaning of walking shows its influence on my aesthetic practice.
Walking as a critical and aesthetic practice will be studied by referencing theoretical and historical perspective. In my situation I would look into the urban city development, more so our attitude towards spaces for living in a developing modern city as an expat living and working in this country. Another notion to take is that of the playfulness of the ' de rive' (or 'drift'), which was focussed on constructive behaviour and awareness of psychogeographical effects. I would also like to probe into the boundaries of walking and dreaming. I used and article by K Basset where I found good theoretical and historical perspective for this project, as well as Ian Sinclair a 'current' practitioner. ( It is clear that we have different aesthetic, critical and political strategies when one look back into the development, as it evolved with culture in terms of how attitude towards spaces changed.
In my research I came upon writings of dr katrina Navickas who critcally look at the idea of the 'flaneur' when one talks about walking within this idea of Psychogeography. She questions whether one do think deeply whilst walking, as most people walk to go to work, or for pleasure or to engage in activist psychogeography, with a political purpose, to subvert norms rather, thus not about the streetscape. She suggests that the flâneur seems to privilege the elite perspective of the landscape viewed from a distance
walking – using the eyes of history to examine the traces and parallels in the past – is an activist practice, and one connected directly with politically activist histories
I started looking for different routes to enjoy the patterns afterwards – on these maps, see image below. What is interesting about this map below, is that it is fragmented – the GPS went off for the first few minutes of the walk – a gap in my walking, I added it with a black marker. I am also looking at how the roads and sidewalks have patterned stones – to imitate Italian cobblestones and they are in red and grey tones. I have made imprints of the patterns on paper with charcoal and plan to use it in my work.
When I walk in the neighbourhood (compound) I often wonder who lives in a house, how does the garden look behind the walls, where do they come from, how long have they been living here – sometimes I see a cat or a dog, or somebody coming or leaving their home to go for a walk (dog walker, kids in stroller) on their bicycles, jogging or in drive their cars. Most of the neighbours in my compound are expat families from all over the world. I wonder if they consider this living as a life in between spaces and what do they do when they become homesick.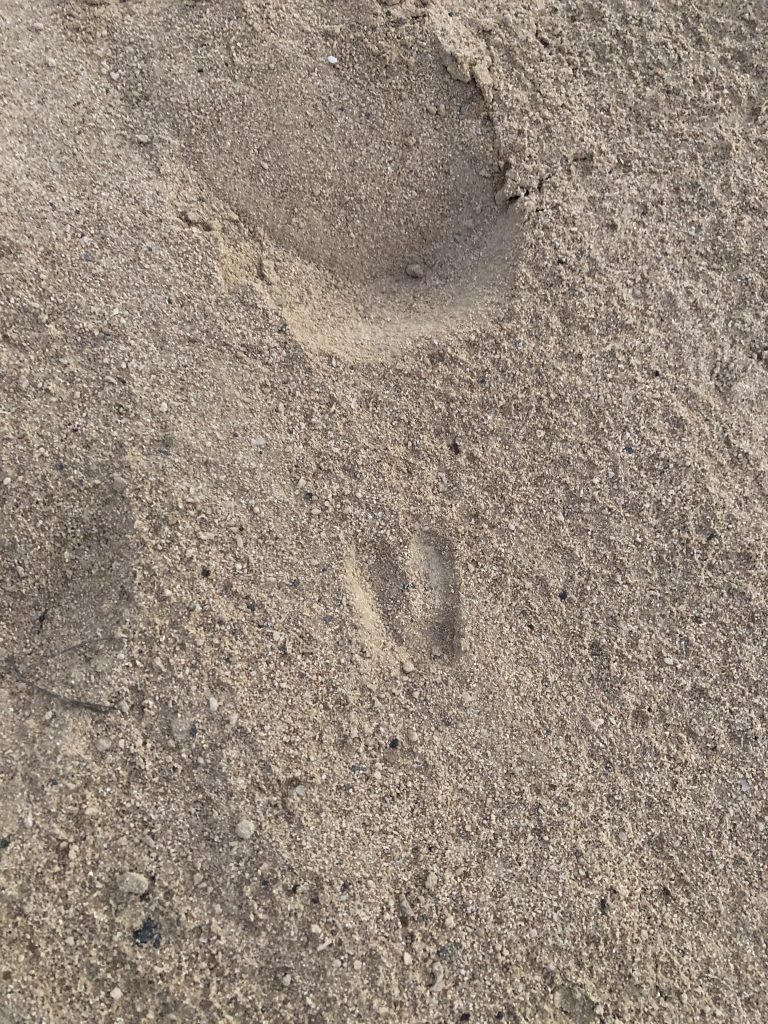 Above painting is an old work I considered a mistake – I battled with the standing pose, the left shoulder as well as the head. I decided to go back to it in terms of an idea about walking and the place I sometimes find my emotions in when I am walking inside my neighbourhood. I am glad that I can keep my thoughts to myself, it is so safe in comparison to South Africa – there I need to be vigilant when I walk on my own, but still ….. in this place I do feel bounded by fences….. I want to explore when I walk – I want to have a feeling of freedom and safety as a woman openly 'loitering' on a whim. This has to do with the place I find myself in – I remember walks in the city, the longs walks on the beach promenade (at least 12+km of walkway) and the lovely walks in the desert and mountainous areas. At least the weather is no allowing one to do these trips again. Do I want to share what I am thinking – it is the experience of gazing onto something whilst walking that I think I am after in my practice, whilst still holding onto the privacy of that moment. But I am walking….. I have an outsider perspective.
I am confronted with many symbols when I walk – I see the minarets of the mosque at the beach (belief/hope); lots of spoor of antelope walking or moving (nature/survival); the sun set or sunrise (hope); the fresh young leaves on trees (hope), the smell of jasmine in early autumn hanging over a wall,(life, beginnings) laughter of children in the park or on their bicycles, birds nesting and chatting late afternoon, prayer calls from the mosque (rhythm of time/meditative/spiritual). These are things that make ones mind wonder as it creates space between things or questions you are battling with and the ongoing living of daily life.
The coastal area around is a very complex space – to the left we have a busy port area, a lagune mooring area for yachts, private and public beaches, watersport areas and then also a protected marine area to the right. To walk around the beach area I take my car and park in the parking area – I have a circular route where I walk between the hotels, yachtclub, gholf course, which is about 5km, or I just walk on the public beach area which is about 800m wide. The road between our compound and the beach is a busy tarred road with no sidewalk area for pedestrians. This is a relative small space where I walk, it can be seen as repetitive. The psychogeography is just not the same with every walk – as the walk opens new things (example hear , smell or see) every single time. I keep a photo diary of most of my walks – my app allows me to share photos or notes of my walks.
What would happen if I share some of my thoughts about walking in my neighbourhood in the physical space – have visual images stuck on the sidewalks, a house wall, on the fence. I can ask my community if they can remember where they were the last time they felt homesick, or ask them to share a photo image of where they are within the community at a given moment. Ask them if they would like a tree park/garden inside our communal areas – currently there is just sand in the open spaces, one playground area for the children, no urban spaces for relaxation or recreation for the rest of the community. I belong to a facebook group for our community – I can consider to gather information for my exploration here.
I decided to put a post on the facebook group and explore more.
At this point I put the focus on the environment and its influence on me. If I explore the power of these things in the way I encounter them in my walks. I see architecture of the different size houses – the lines and colours – a similar modern square style design, which differs in size and its location within the space, inside the owner can give it more identity in terms of gardening and interior and exterior decor. Can I see these as a critique on the urban environment, where safety and other institutional issues comes in play? Could it come down to how we live and interact with things as commodities and about social class and identity? I will consider to compare the experience I have of walking in nature and on the farm back in SA.
My body becomes the participant – by being aware, attentive, making connections with memories and place, feelings in my heartbeat or deeper emotional experiences come to the rise. I look at how shadows and reflections touch me when I go back to the studio – I want that in my material work – that deeper pool we can sink into with our own thoughts. Open space I can look into also give me something I want to explore – landscape lines and how light falls on it to give me a sense of space and form. I also feel the 'moment' in these walks – nothing is just so – it is ever changing.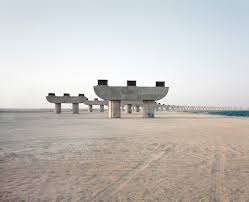 I have been thinking about looking, the gaze we find in portraits, can one have a gaze in walking, like a gaze of space? I do like above photo images of the landscape around me. One of my neighbours in my compound shared his 'drone photos' (videos) with me. I do enjoy a 'birds eye' view. Amazing how flat everything is. Below are two images taken with the drone. I read that Sinclair says walking is the best way to 'explore' and 'exploit' the city.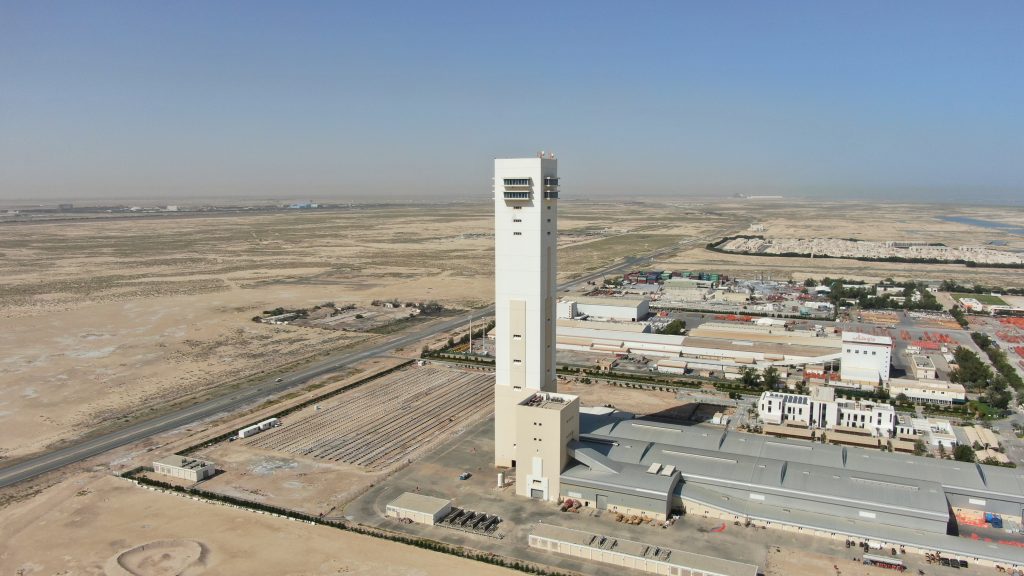 In a google search I found the artist, Hamish Fulton, who describe himself as an artist who walks : " I am an artist who walks, not a walker who makes art. Not every artist enjoys walking." Below are some of his work I found:
Land art contradicts walking art.
My art begins with walking,
not the history of gardening.
My restraint
in the use of art materials is merely symbolic,
it would be hypocritical for me to think otherwise.
Walking into the distance
beyond imagination.
Walks are like clouds,
they come and go.
In my memory
nowhere to be seen.
All my walks are related,
from the first to the most recent.
Hamish Fulton, 2019
at Galerie Thomas Schulte, Berlin
until 9 March 2019
The 'crazy' style paved roads in my neighbourhood reminded me of looking at the funny shoes in a Jan van Eyck painting recently – whilst looking at objects and fashion. These shoes were apparently used outside whilst trying to walk around filth lying in the streets around cites at that time. It reminds me of our comfortable clog like shoes – open for fresh air and such a contrast in the utility meaning as those one's depicted here for use in the 1400's. Our roads in this community are regularly cleaned by an 'broom sweeping vehicle', we associate filth on roads with slum areas now a days.
In my walks I do meet up with our other problem, that of plastic and rubbish strewn in nature – be it the wind and/or people, this is the ugly part of walking and I am reminded of how many activists against plastic and other non-degradable consumables are daily at work.
30 November: I started reading, The Practice of Everyday Life, by Michel de Certeau, 1984 (Published by University of California Press) on SCRIBD
1 December 2020 – a short early morning walk reminded me that Christmas is around the corner – houses are decorated. I think about expectations and my looking, in my gaze there is an expectation of what I will find/experience on these walks – all fragments I take with me along with my walking. I could use the shape of the fire hydrant in a work about my walks.